Sustainability
Walk the Plank is a keen advocate for sustainable practice in the outdoor arts sector and is committed to a wide range of initiatives that maximise positive social and economic impact and minimise negative environmental impact. We approach sustainability like its health and safety responsibilities – crucial, non-negotiable and at the forefront of all planning.
Read more about our practice in our WTP Sustainability Policy 2021-22
We are the proud producers of Manchester Day, a parade that is pushed, pulled, cycled and recycled and won a 4* Creative Green award from Julie's Bicycle in 2019.
As an active member of Manchester Arts Sustainability Team (MAST), we work collectively to pursue best sustainable practices.
This website has been certified 'Green Hosted' by The Green Web Foundation.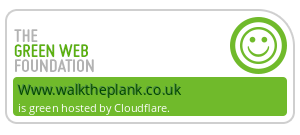 Our Programmes Of Sustainability Training and Outreach
Green Production Lab
Walk the Plank are pleased to have partnered with Without Walls to launch the  Green Production Lab 2021– a new initiative that aims to bring together production management professionals working across the Without Walls consortium and wider Outdoor Arts sector to explore the challenges and opportunities for reducing the environmental impacts of outdoor festivals, events, and touring productions. Read more about our involvement with the Green Production Lab here. 
Carbon Literacy Training

In 2021  all of our core team were able to undertake Carbon Literacy Training, and through additional funding via the Arts Council funded Elevate (Artist Development Programme), we will be able to offer this to our wider freelance team throughout the year.
Manchester Day
As shown in our header image by Mark Waugh in 2018, many of Manchester Day's parade structures and costumes are stored and adapted for re-use each year, such as wheel bases for moving structures or utalise recycled and reused materials.