Kaunas School of Spectacle
"Kaunas School of Spectacle" – a practice of spectacle making from local culture that is hidden and unspoken.
Baltijos cirkas, Apr 24 – Apr 28, 2017
Kaunas School of Spectacle was a free five day intensive outdoor arts training school for Creative Practitioners based in and around Kaunas, Lithuania and invited international artists. The school delivered training designed to build skills that creatives need for making outdoor events and civic celebrations.
The school was developed with community artists Vita Gelūnienė and Ed Carroll in partnership with The Lower Sancai Community Association and Dvimiesco Kulka, Lithuania.  Kaunas School of Spectacle was the second of five distinct international Schools of Spectacle, and sought to prepare the ground for the city's first community parade/procession in September 2017.  The parade celebrated bottom-up and person-up culture coming from the local community, and increased local creative talent.  The training was made possible through the kind support of Creative Europe; SNF and Lietuvos kultūros taryba.
"Events like this can bring communities together in shared celebrations of place and local identity" said Liz Pugh, Producer at Walk the Plank
Facilitators
Community artists Vita Gelūnienė and Ed Carroll co-organised the School, which was located in and hosted by the Lower Sancial Community Association
International Facilitators included:
Brian Fleming a theatre maker and festival director based in the West of Ireland. He has played in all countries in Western Europe and Scandinavia and many countries on the Asian, African and American continents.
Darius Petrulis and Aukse Petruliene of Psilicone Theatre, who transforms stories and everyday texts into audiovisual performances.  Their characters are miniature silicon dolls and process is a kind of live animation created before the eyes of the audience.  The movement of elastic, viscous dolls is filmed and projected as a huge colourful video projection accompanied by live music.
Lighting of the Fire Drawings. (Photo: Vita Gelūnienė)
Follow the story
Join the conversation on Twitter and Instagram with #SchoolofSpectacle
See the Storify here.
Participants can join the online School of Spectacle network here.
Funders:
Partners: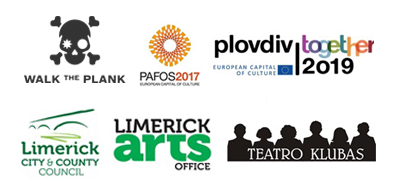 Associate partner: